Anti-decubitus cushion
Description
Pressure sores are wounds that develop when constant pressure or friction on one area of the body damages the skin. They happen when you lie or sit in one position too long and the weight of your body against the surface of the bed or chair cuts off blood supply. Mostly, people with limited mobility and seniors after bone's fractures or surgeries suffer from bed sores. When the blood flow is decreased, the soft tissues are anoxic. Sacral area of human body is the primary zone threatened by risk of pressure sores. In sacro-gluteal zone almost 50% of all sores appear. To avoid such problem, you should use our anti-pressure positioning cushion PA-VM-10.
4 pressure sores locations: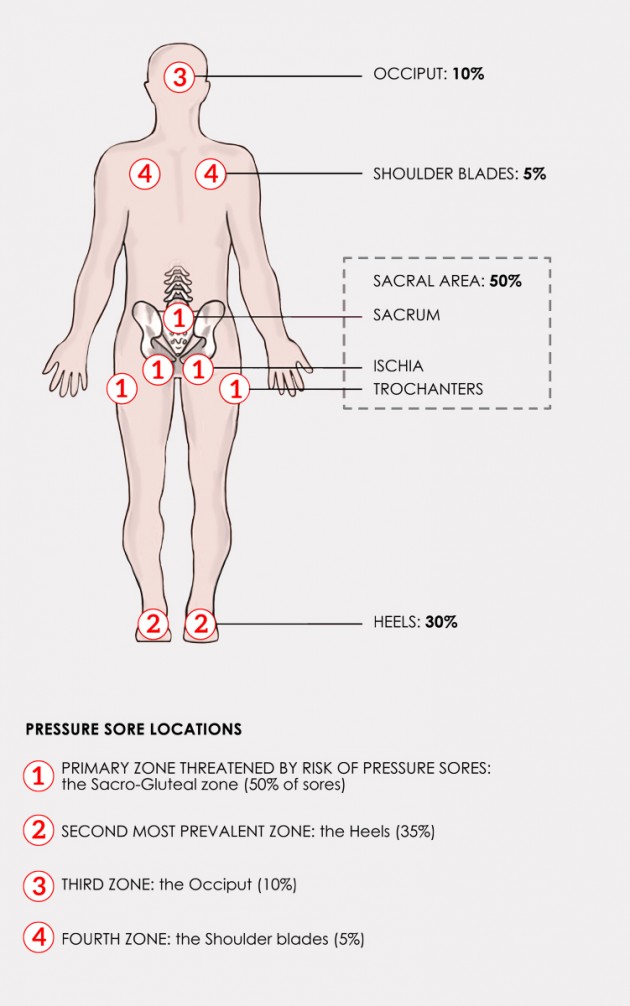 When you use our cushion, your sacral area is better oxyganeted. What is more, when you use the wheelchair the cushion absorbs any shocks and improves the comfort.
The cover of the cushion PA-VM-10 is made of high quality skin friendly cotton with internation certificate Oeko-Tex Standard 100. It can make you sure that the cover is comfortable, safe for your skin and improve the hygiene. Lower part of the cushion is made of non slippery fabric which prevents against the cushion's slipping while using.
The cushion is available in 3 sizes which fitting to standards wheelchair's dimensions. Also, it may be used on the chair.
Gallery
Available sizes
Available sizes of PA-VM-10 cushion:
40×40
45×45
50×50
Did not find what you are looking for? We are happy to make a product tailored to your needs!
Downloads