Twosided hospital mattress MS-OB-Z/B
Description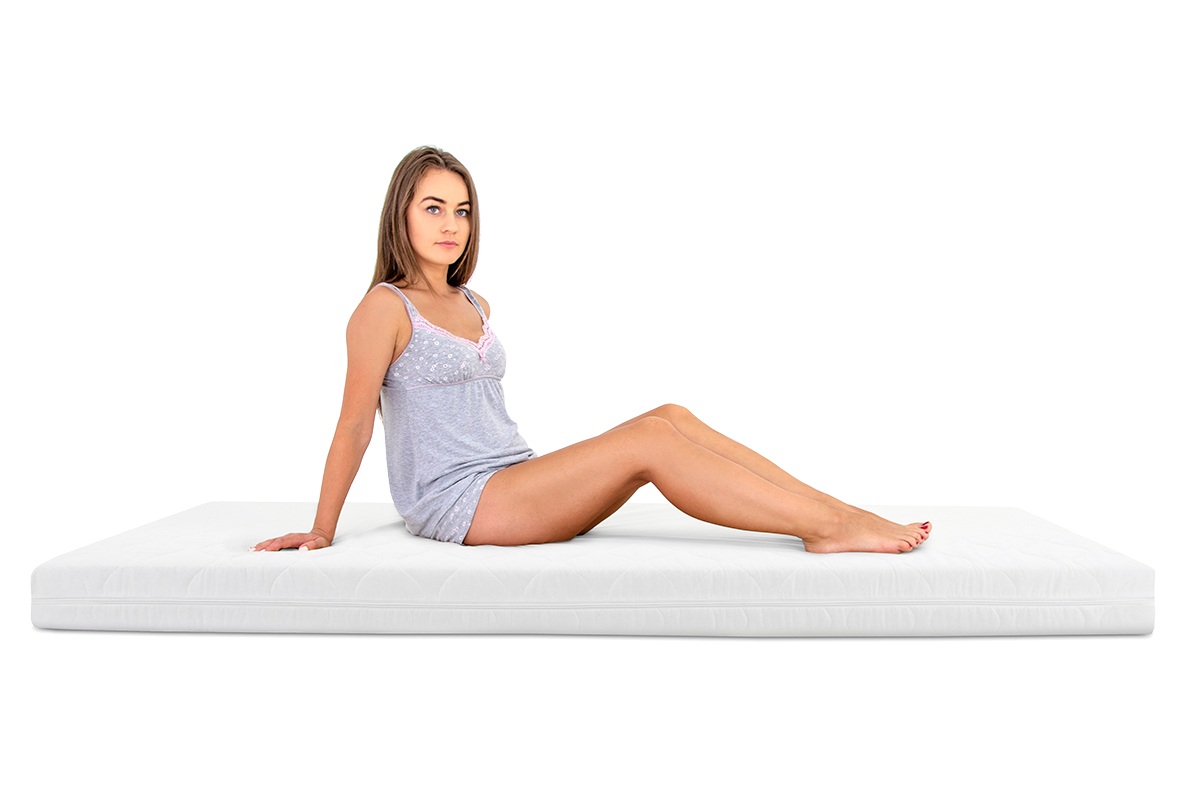 Hospital mattres MS-OB-Z/B is produced by REH4MAT and made of high quality of polyurethane foam. It is a rectangle shaped mattress, hence it is perfectly adjusted to standard hospital beds. Foam is placed in cotton as well as zipped up cover. What is more, cover may be easily removed in order to wash it. Additionally, on one side it is waterproof which is important for people who have problems with urinary continence. In this case, washable part of mattress should be turned over upwards. In other cases, this part of mattress should be applied downwards. It is made of fabric which has a non skid function thanks to which bed sheet does not roll and coil. This mattress is mainly used in hospital and rehabilitation beds. It perfectly adjusts to patient's body due to appropriate flexibility and hardness.
LAYERS:
1. Washable cover thanks to which liquid does not get in through the inside of mattress.
2. Comfort foam.
3. Cotton cover.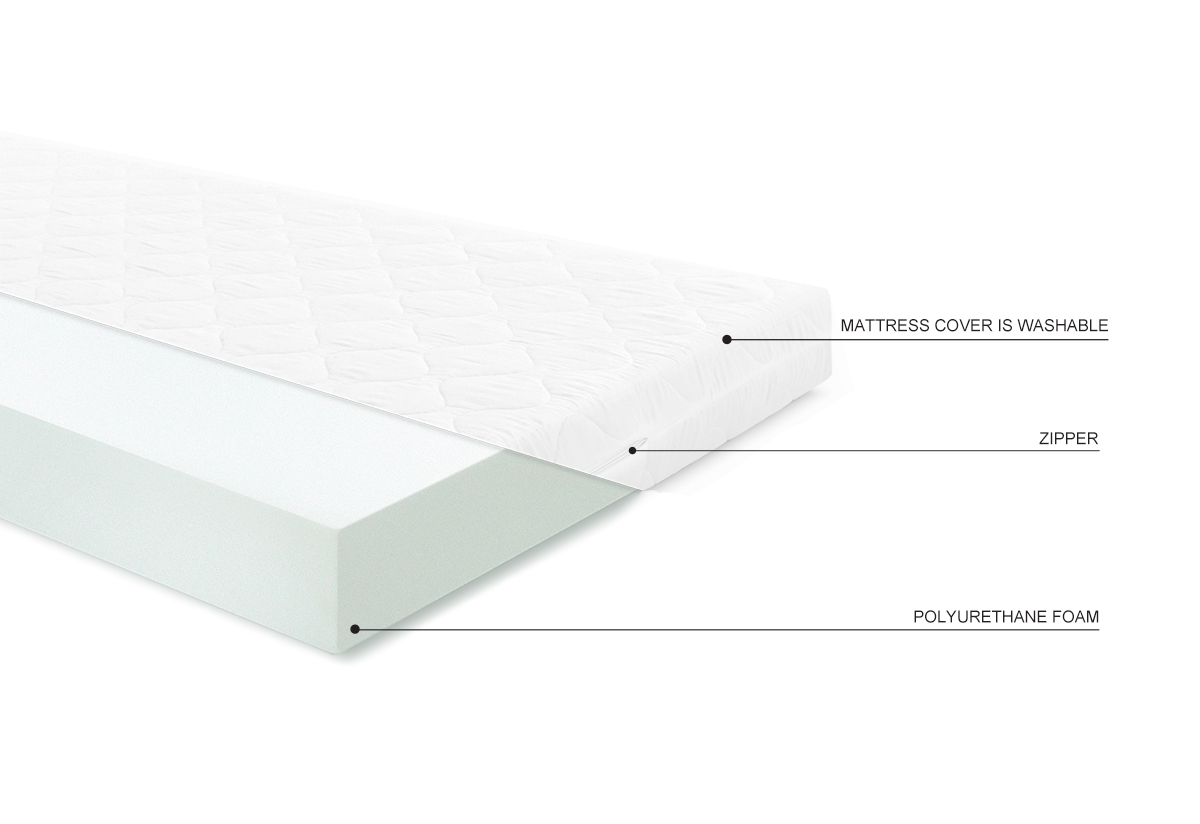 Cover made of MICROcomfort.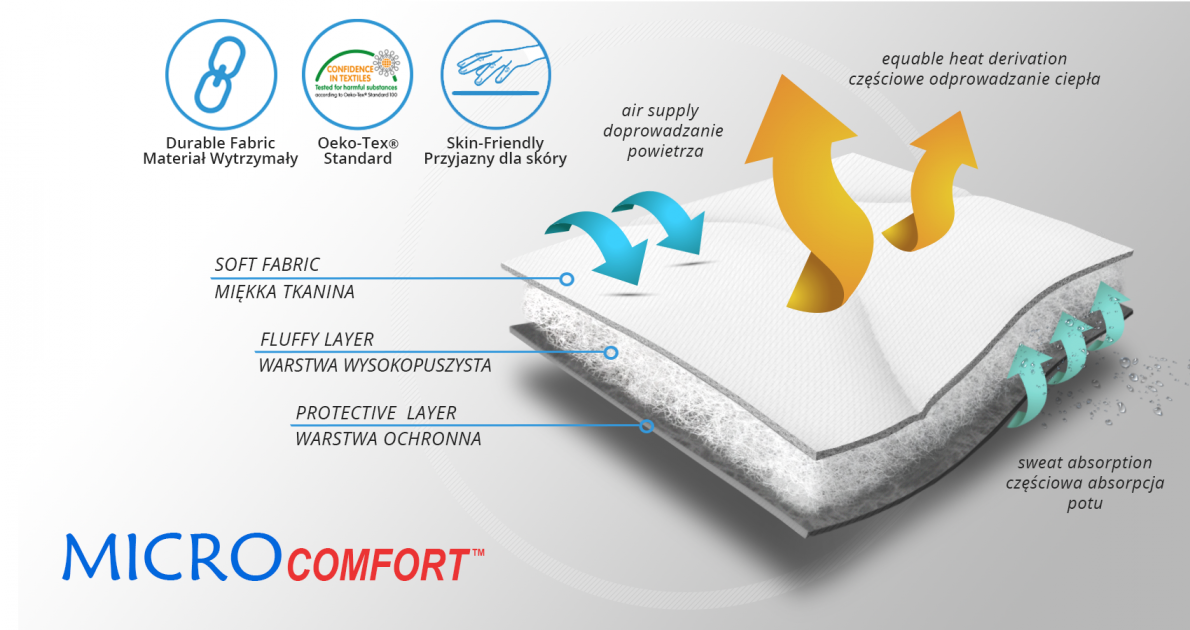 MICROcomfort™ - everyone knows microfiber very well - the raw material, widely used in recent years, breaks popularity records in many areas. Microfiber is a kind of very thin polyester and polyamide fibers. It is produced with the support of modern technologies that enable obtaining extremely thin synthetic fibers. The low linear density of microfiber makes it soft and delicate, and thanks to the use of synthetic fibers, it does not cause allergies and irritations. Thanks to the micro-holes, it allows for air migration, ensuring full comfort while sleeping. That is why, it can be used both in summer, when the nights are much warmer, and during frosty winter evenings. In addition, microfiber perfectly wicks away moisture and has thermoregulation properties, which significantly affects the comfort of use. Therefore, we decided to use it to manufacture our products. In addition, due to the very elastic fibers, microfiber is an extremely resistant to damages. During washing and ironing, the fabric does not stretch or tear, so buying a microfiber product is an investment for years!
Available sizes
Standard size of hospital mattress:
200 x 90 x 10 cm (78,7″ x 35,4″ x 3,9″)
200 x 90 x 12 cm (78,7″ x 35,4″ x 4,7″)
200 x 90 x 15 cm (78,7″ x 35,4″ x 5,9″)
Weight limit: 130kg
Gallery
Downloads