ANTI-BEDSORE WATERPROOF MATTRESS MULTIBLOCK WITH FROTTE COVER
Description
Anti-bedsores Mattress MULTIBLOCK MP-MB-N/F was developed in order to prevent pressure ulcers, commonly called bed sores or pressure sores by dispersing pressure away from bone protrusions.
The incised blocks work individually offering the perfect adaptation to every contour of the body, evenly distributes weight and pressure over a wide area, thus lessening the risk of decubitus ulcers. The multiblock system helps to eliminate pressure points, provides comfort to the patient during sleep or lying down position. The mattress is healthy for spine, joints, improves blood circulation and general patient mood.
The Cotton Cover of mattress allows light ventilation of the patient body.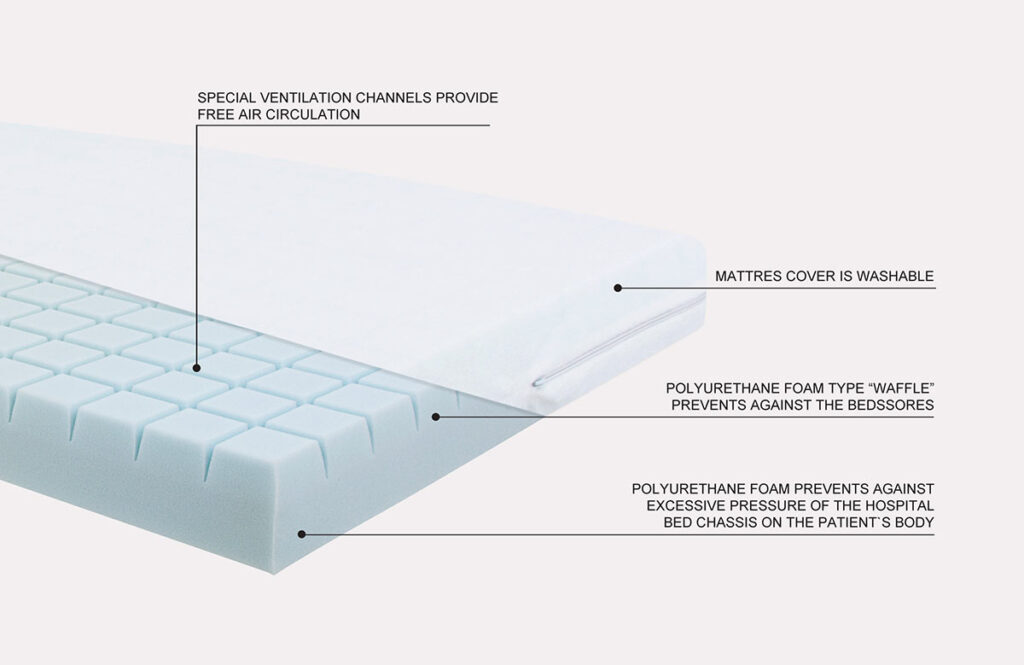 The cover of the mattress was made of high quality polycotton fabric that is fully safe for patient's skin. The cover is really easy to clean and disinfect, so it may be used by few patients. The polycotton fabric is extremaly light and soft. The additional advantage of this material is being water resistant and permeable. The cover is equipped with a zipper what expedites putting the cover off and on. Thanks to that solution a patient is able to keep the it clean.
The cover is the perfect equipment destinated for health service, social welfare centres, pensions and nursing homes.
Maintenance of the anti-bedsore mattress:
wash in maximum 90 °C,
do not disinfect with chlorine,
do not iron,
dry in unfolded position,
do not dry clean,
clean it from grime
The cotton side of the product should contact with the patient's skin. The cover is water resistant – at water pressure 250daPA in 5 minutes. Moreover, it is resistant to weak acids and alkalis, as well as disinfectants. The cover does not causa allergy or skin problems.
Available sizes
Standard size of mattress:
200 x 90 x 10 cm – available while stocks last
200 x 90 x 12 cm – available while stocks last
200 x 90 x 15 cm – available while stocks last
Weight limit: 130kg
Downloads